Toledo Deck Cleaning For Clean, Easy To Enjoy Outdoor Areas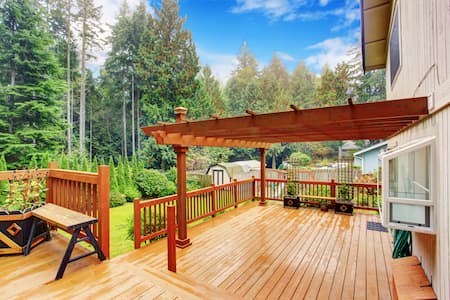 At All American Soft Wash LLC, we specialize in deck cleaning services that ensure your Toledo deck is not only clean but also safe and inviting. Let's explore how our professional pressure washing team can help you make the most of your outdoor areas.
Wood & Composite Deck Washing To Best Care For Your Deck Investment
Decks are a significant investment, and proper maintenance is key to preserving their beauty and structural integrity. Whether you have a wood or composite deck in Toledo, our deck cleaning services are tailored to best care for your specific deck material.
For wood decks, we use a gentle soft wash technique that removes dirt, algae, and mold without damaging the wood fibers. This approach ensures a thorough clean while preventing the potential for splintering or other damage. We also follow the same process for our fence cleaning services to protect your fencing.
Composite decks also benefit from our expertise. We use specialized detergents and low-pressure washing to clean composite materials effectively. Our process removes grime and stains, leaving your deck looking fresh and inviting.
Finest Porch Washing Professionals To Care For Your Property
Porches are an extension of your home and deserve the same level of care as any other part of your property. Our pressure washing professionals are skilled in cleaning a variety of porch materials, including concrete, brick, and stone. We remove stains, mildew, and discoloration, revitalizing the appearance of your porch and enhancing your outdoor living space.
Frequently Asked Deck Cleaning Questions
High-pressure cleaning can be damaging to your deck, especially if it's made of wood. We recommend using a gentle soft wash technique, which uses lower pressure and specialized detergents to remove dirt and grime without harming the deck's surface. This method is not only effective but also safer for your deck.
Yes, the decking material matters when it comes to pressure washing. Different materials require different cleaning methods. Wood decks, for example, benefit from a gentle soft wash, while composite decks can be safely cleaned with low-pressure washing. It's essential to choose the right deck cleaning technique to avoid damage to your deck.
A slippery deck can be caused by the accumulation of algae, mold, or mildew. These growths can make your deck surface hazardous, especially when wet. Our deck cleaning services include the removal of these contaminants, making your deck safer and more enjoyable.
Clean Up Your Property With Our Toledo Pressure Washing Specialists! Contact Us Today!