Let Toledo's Professionals Handle Your Gutter Cleaning Problems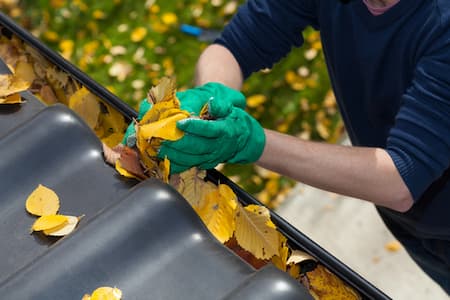 Our team of dedicated professionals is here to take on the responsibility of gutter cleaning, ensuring that your Toledo home remains protected from potential water damage. With our expertise and commitment to excellence, you can check gutter cleaning, house washing, and plenty of other pressure washing tasks off your to-do list, knowing that your property is in capable hands.
Professional Gutter Washing: One Less Chore On Your To-Do List
Gutter cleaning is a time-consuming and often challenging task. Climbing ladders, removing debris, and ensuring that every inch of your gutters is clear can be both physically demanding and potentially risky. Our professional pressure washing services eliminate the hassle and danger associated with this chore. We have the tools, experience, and expertise to efficiently and effectively clean your gutters, leaving them free from leaves, twigs, and other debris that can obstruct water flow.
Downspout Washing Makes Sure Your Gutters Are Healthy
Neglecting the essential task of gutter cleaning can result in a cascade of issues that extend far beyond mere inconvenience. Clogged gutters can quickly transform into a breeding ground for problems, including stubborn blockages that impede water flow, overflows that damage your property's exterior, and even structural harm to your home's foundation. This is where our downspout washing services come into play, working seamlessly alongside our gutter cleaning efforts to ensure the comprehensive functionality of your gutter system.
Our gutter cleaning team understands that effective gutter cleaning is not solely about removing debris from the channels but also involves guaranteeing that water is efficiently channeled away from your home. The integrity of your gutters relies on the clear and unobstructed passage of water through the downspouts. Our gutter cleaning experts are equipped to keep your downspouts clear and functional, allowing them to carry rainwater safely and efficiently away from your property.
Frequently Asked Gutter Cleaning Questions
Our professional gutter cleaning offers several advantages over DIY efforts. We have the necessary equipment and experience to efficiently remove all debris from your gutters, reducing the risk of clogs and overflows. Additionally, we can identify and address potential issues before they become major problems, saving you time and money in the long run.
The frequency of gutter cleaning depends on factors such as your location, nearby trees, and weather conditions. In most cases, we recommend annual gutter cleaning to ensure optimal performance. However, homes in heavily wooded areas or areas with frequent storms may benefit from more frequent cleaning.
Clean Up Your Property With Our Toledo Pressure Washing Specialists! Contact Us Today!